The following financial projections are based on conservative sales forecasts by month for the next twelve months, and by year for the four years thereafter. We will continue to sell the DOS-based MDS 2.0 product until January 2002 at which time we expect to have programming completed in the Windows environment for the Enterprise Software Solution. License fees for the DOS-based product will continue to average $500 with monthly maintenance averaging $125. Beginning in January 2002 we will sell the Enterprise Software Solution for an average $1,000 license fee and average $500 monthly maintenance fee. We will convert our DOS-based customers to the Enterprise Software Solution at the average rate of 25 customers per month. The conversion fee will be $500 and monthly maintenance thereafter will be $500. We expect to have all of our customers converted by June 2002. Details of projected sales and conversions are included under the heading Revenue Assumptions.
The cost to upgrade the OBRA e-z DOS-based program to windows is estimated at $120,000 that will be spread over the first twelve months. Maintenance will require approximately $24,000 per year thereafter. The cost to upgrade and integrate the MasterLink software is estimated at $204,000 (spread over the first twelve months) with annual maintenance of about $12,000 thereafter. Details of estimated costs are included under the heading Expense Assumptions.
OBRA e-z will generate negative income from July 2001 until April 2002 while absorbing the expense to upgrade software and jump start its sales and marketing activities. We expect to be generating profits beginning May 2002 and every month thereafter.
We will require an initial investment of $750,000, all of which will have been recovered by the end of year two in cash (approximately $700,000) and accounts receivable (approximately $200,000). By the end of year five, we expect to have cash and accounts receivable aggregating more than $7,000,000.
The break-even analysis assumes running costs of approximately $91,700 per month that includes full payroll (compensation and benefits), rent, utilities, supplies, sales and marketing, training, and other miscellaneous costs.
Variable costs include only those directly attributable to packaging and delivering the software product and are estimated to average only about 10% of the license revenue.
The chart shows the break-even revenue is about $94,500 per month. Conservatively, we estimate that by May 2002 we will be servicing a minimum of 165 customers of $73,125 and license fees of $22,500. We will have crossed the break-even point in May and project profitability thereafter.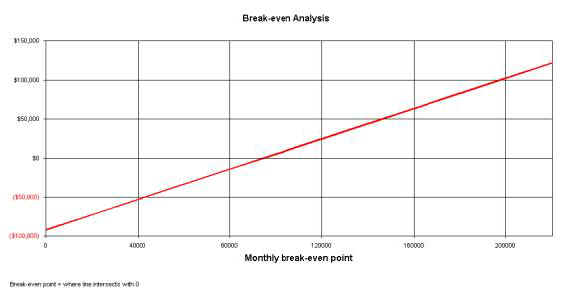 Pro forma financial statements follow.