Our management team is comprised of people with many years of experience in the long-term care provider and software development industries. Our philosophy is laser-like focus on the customer's needs. We have a Chief Financial Officer and four directors reporting to the President and CEO. Part-time positions staffing the customer support desk will be filled as needed and reporting to the Director of Operations. Seven regional sales managers will be contracted as commissioned resellers and reporting to the Director of Business Development. Four have already been identified.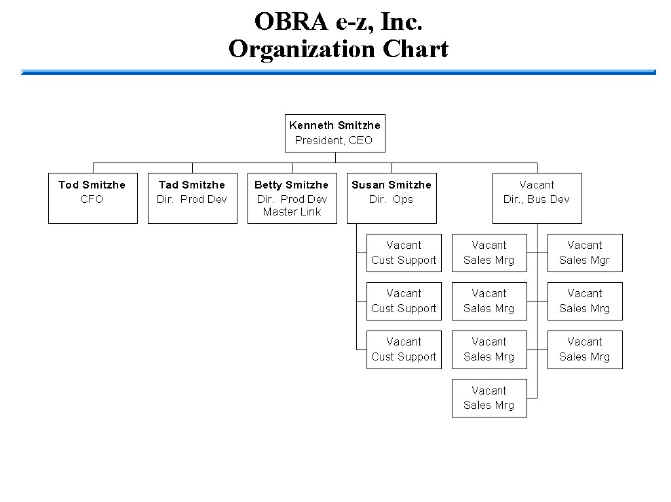 The OBRA e-z management team consists of the President and CEO, the CFO, and four directors:
Ken Smitzhe, President and Chief Executive Officer
Ken Smitzhe has been working with Information technology tools in the geriatric health are industry for over ten years. His expertise is in the Internet, Intranet and development of strategic business partnerships.
Previously, Mr. Smitzhe was National Manager with NCS HealthCare, Inc., a world class provider of integrated healthcare solutions, providing real-time communications between long-term care institutions, including skilled nursing facilities and assisted living facilities. The technology provided by NCS has led to better patient care and a more efficient work environment.
At NCS, Mr. Smitzhe was instrumental in the development of the companies' web based formulas that increased productivity and customer care. His strategic partner relationships allowed NCS to develop end-to-end solutions for the exchange of data.
Mr. Smitzhe also held the position of sales associate at AllScrips, Inc., a provider of Internet and client/server medication management techniques to physicians. In this role, Mr. Smitzhe promoted point-of-care medication management, Internet and information products, and prepackaged medications.
Tod Smitzhe, Chief Financial Officer
Tod Smitzhe graduated Magna Cum Laude from Quinnipac University and has been in the financial and information technology businesses for over seven years. He is currently National Implementation Manger for NCS HealthCare, the 4th largest long-term care pharmacy provider in the country and one that developed a proprietary software program that allows LTC facilities to interact real time with the pharmacy operating system. Mr. Smitzhe also serves as staff accountant and computer programmer with other firms in the real estate and HVAC industries.
Tad Smitzhe, Director of Product Development
Mr. Smitzhe has been an independent computer programmer and consultant for nearly 20 years. He holds a Bachelor of Fine Arts from the Massachusetts College of Art and the Contel/Cado Software Developer Certification from Cado Training in Torrance, California. He has developed and maintained Contel/Cado based computers systems for the fuel oil industry, credit unions and construction companies. He developed and maintained PC-based programs for the long-term care industry, medical services and testing, home heating fuel oil, water treatment, ambulance services, shipping and postal service, law firms, plumbing and heating supply companies, and real estate tracking systems.
Mr. Smitzhe created the medical records and MDS 2.0 modules for OBRA e-z, and will lead the conversion of OBRA e-z to the Windows environment and integration of the Enterprise Software Solution package.
Betty Smitzhe, Director of Product Development – MasterLink
Betty Smitzhe brings with her over 20 years of information systems management in the health care industry. As the creator of MasterLink, a software scheduling program designed specifically for the long-term care industry, Betty has gained a thorough working knowledge of the needs of the health care professional both as a user and a developer. Betty's experience includes Medical Records, Quality and Project Management in both acute and long-term care settings. Since MasterLink's inception in
1996, she continues to design and implement software solutions for a large Rochester Health system in order to understand the needs of customers today in a changing industry.
Susan Smitzhe, Director of Operations
Ms. Smitzhe is a registered nurse having received her nursing degree from Lutheran Hospital School of Nursing in Milwaukee, Wisconsin. Ms. Smitzhe also earned a Bachelor of Arts in Health Science Administration from Western III. University in Macomb, Illinois where she was a dean's list student. More recently, Ms. Smitzhe completed the Medical Legal Consultant Course at Florida Risk Management, St. Petersburg, Florida.
Ms. Smitzhe was co-founder and vice president of marketing and clinical services for Spectrum Health Services, Inc. in Tampa, Florida, and for the past three years, she has been the RN Consultant for OBRA e-z providing customer training and operational support.
---