OBRA e-z's market consists of the approximately 18,000 long-term care providers in the United States. OBRA e-z expects to capture about 6% (or 1,025 customers) of that market by the end of Year 5.
Our market segmentation scheme divides the market into three groups: long-term care providers who use software produced by the top three competitors, long-term care providers who use middle-market software, and long-term care providers who use lower market software, or none at all. Our estimates are that each segment represents about 1/3 of the market.
OBRA e-z will target all three market segments with initial focus on the lower- and middle-market software users. OBRA e-z's Enterprise Software Solution will add some functionality and significant ease of use to customers in this market. We have recently converted numerous customers from competitive products to OBRA e-z, and our experience has been that MDS coordinators familiar with OBRA e-z who change employers usually recommend to their new employers to change to OBRA e-z. Time is a critical commodity in the long-term provider business, and OBRA e-z saves MDS coordinators a considerable amount of time.
We believe our price will be very attractive to long-term providers who are paying from $1,000 to $1,500 per month in maintenance fees. That segment will be able to recover their licensing fee in just a few months, and we believe our Windows-driven product will be far more user friendly than those products currently on the market.
The market requires a highly functional product that is cost effective and easy to use. OBRA e-z will provide that. The market needs help when the market wants help, and OBRA e-z's 24/7/365 help desk will provide that.
According to the U.S. Census Bureau, America's population aged 65 or older grew by 82 percent between 1965 and 1995. Between 1980 and 1995, this same population grew by 28 percent to a historical high of 33.5 million people. Currently, one in eight Americans is 65 years of age or older. And while less than 25 percent of the population is younger than age 15, another 57 percent is aged 30 or older. Clearly, the proportion of older citizens is growing and will continue to do so with the aging of the baby boomers.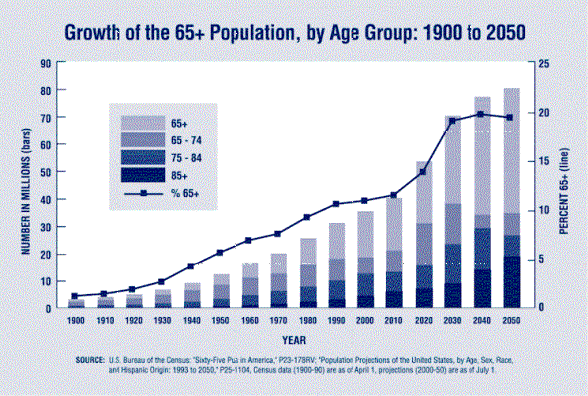 The 75 million people born in the United States between 1946 and 1964 constitute the baby boom generation. In 1994, baby boomers represented nearly one-third of the U.S. population. Within the next 13 to 34 years, these people will enter the 65-years-and-older age category. As the baby boomers begin to age, the United States will see an unparalleled increase in the absolute number of elderly persons. While one in eight Americans was 65 years of age or older in 1994, in a little more than 30 years, about one in five is expected to be in this age group.
The U.S. Administration on Aging (AoA) is encouraging planners and policy makers to prepare now for the aging of the baby boomers so that the nation is prepared to meet the challenges that will ensue as this unprecedented large generation begins reaching age 65.
OBRA e-z will not pursue a niche strategy to the market. We view everyone in the long-term care provider business as potential customers. Our Enterprise Software Solution will serve the needs of all long-term care providers, both small and large. It's a total solution, cost effective, and its user-friendly features will significantly improve productivity in any environment.
We will approach the market through internet, print and direct mail advertising, and direct contact. We are currently negotiating with nine of the most popular health care sites on the internet to include an advertising link to obraez.com:
amda.com

nadona.org

achca.org

ana.org

ascp.com

cna-network.org

healthinaging.org

ngna.org, and

snalf.com
These sites draw a lot of traffic from individuals in the long-term care provider industry.
We will also advertise in the Long Term Provider professional magazine. Although this magazine has a subscription price, complimentary subscriptions are provided to professionals in the long-term provider industry.
We will target long-term care providers with direct mail advertising and follow up with sales calls from our own marketing people as well as independent resellers interested in selling our product.
---